iPhone 15 Pro Max
Evo Lite - Apple iPhone 15 Pro Max Case - Clear
Lite on design, not on protection – Designed to give you unbeatable 10ft multi-drop impact protection, our sustainable bio-spice ingredient making...
Lite on design, not on protection – Designed to give you unbeatable 10ft multi-drop impact protection, our sustainable bio-spice ingredient making this case totally biodegradable, and a great handheld experience with a lightweight body and a textured grip, the EvoLite is affordable impact protection you can rely on. Plus with the enhanced camera protection to keep the most vulnerable feature on your device safe from damage, and our advanced UV-Resistance additive ensuring the case stays crystal clear for its lifetime, this is a case that does everything you need, effortlessly.
Why choose Evo Lite?
10ft Impact Protection, thanks to our lab-tested materials and design innovations, protects your device drop after drop for the lifetime of your device.
With our innovative bio-spice formula, this case breaks down into the earth once you're finished with it, leaving no trace of microplastics.
Embedded with intelligent UV-resistant agents, this case protects your device from damage and discolouration, for the lifetime of your device.
Designed with raised bevelling to protect your camera lenses, this subtle detail cleverly protects your devices most delicate feature from damage.
With built-in ribs this case is ergonomically designed to sit in your hand securely, ensuring once it's there it's not going anywhere.
This case feature our in-house Waste Responsible Innovation technology that will biodegrade in landfill environments in a matter of just a few years. Our materials have been independently tested by Eden Research Laboratory, Albuquerque, USA. This product is not considered biodegradable in some parts of the world, including California, Maryland, Washington and France.
Please note we currently only ship to the following European countries:
Germany, Italy, France, Spain and Netherlands
REFUNDS & RETURNS
We currently do not offer a returns service for European orders, as well as Rest of World orders.
Shipping Costs
Europe – Free shipping on orders €30 and over. Cost is €3,95 on orders less than €30
Our shipping costs can vary based on the carrier and warehouse location, but don't worry, all prices will be shown at checkout before you place your order.
It's important to remember that shipments to some countries can face strict controls from local customs authorities, which can sometimes cause delays. In some cases, you may even be contacted by our courier and/or a customs clearance broker to get certain information and authorisation for them to act on your behalf to import your order. If you don't provide authorisation when contacted, you may become responsible for import duties or other fees charged – nobody wants that! If you're not sure if this could affect you, it's definitely worth contacting your local customs office before placing your order to be on the safe side.
Take a look at our Terms and Conditions for more information on the shipment of your order.
Delivery Speed
EU- 2 - 6 working days
NL- 1 -2 working days
To read more about our delivery and returns policy please see our FAQ's here.
Impact Protection
Contains lab-tested, high-performing impact materials which can withstand multiple drops.
Waste Responsible Innovation
Independently tested to breakdown naturally into the earth, leaving no trace of microplastics.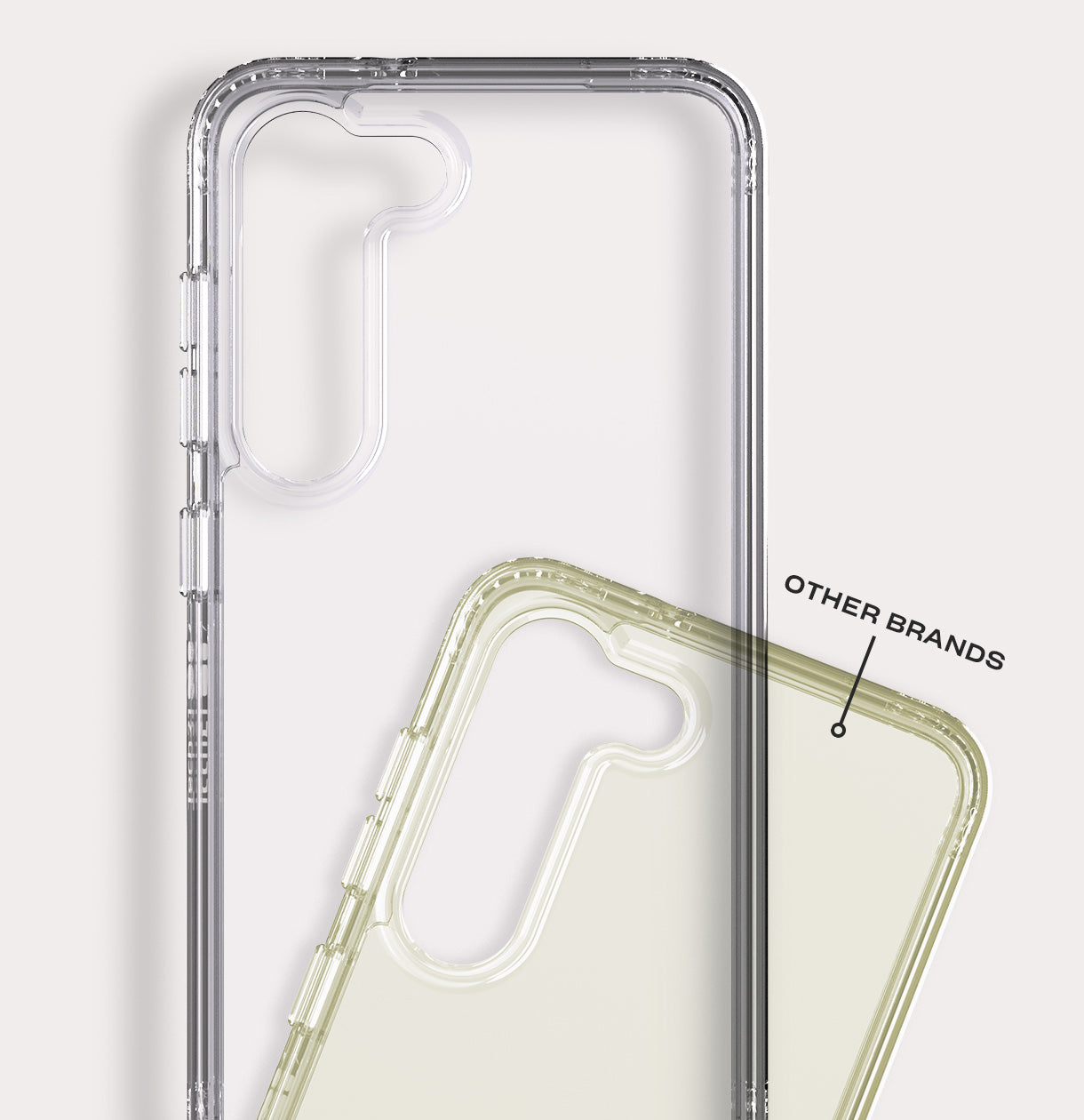 UV Resistance
Embedded in the case, our UV agent protects against material breakdown and yellowing.
Enhanced Camera Protection
Subtle raised bevel detailing around the camera lenses ensures they're kept scratch free.
You may also like these...