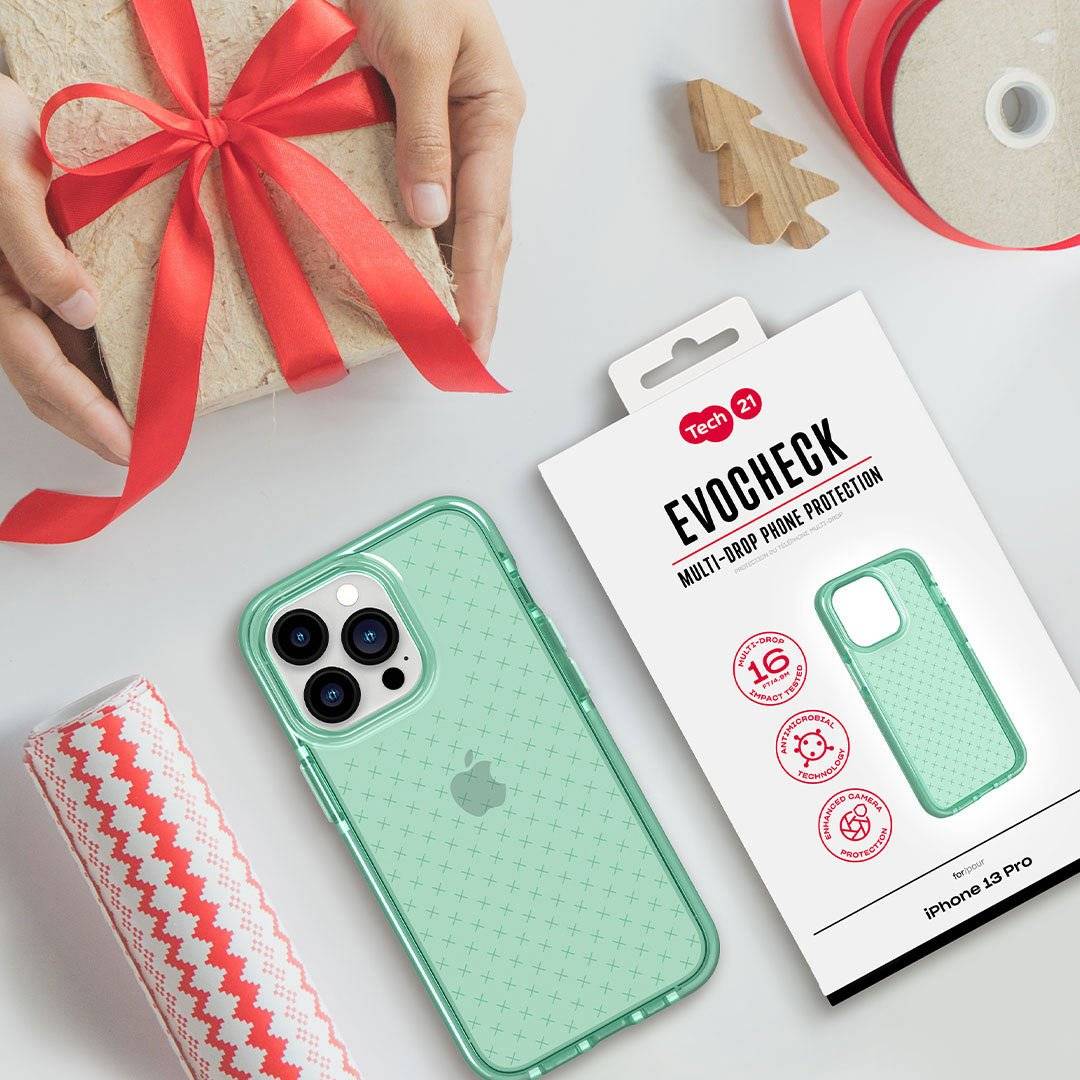 CHRISTMAS SHOPPING MADE EASY
It's happened again; December is just around the corner, seemingly coming out of nowhere and the big day is getting closer by the minute. We totally get that buying Christmas gifts isn't all mince pies and snowflakes, in fact sometimes it can be a bit of a headache, which is why we're here to help make your life a little bit easier.
Are you running out of inspiration for your extremely hard-to-please friend, or wondering how you're going to swerve buying yet another tie for your dad? Don't worry. You can take a breath because we've got you covered. Whether you've only got a few bits left to get, or you're yet to make a start, Tech21's huge range of tech protection and accessories means that there really is something for everyone on your list this year.
Our brand new rugged Evo Max iPhone 13 cases and bestselling Evo Check cases are our most advanced and innovative cases. The toughest rugged case on the market, Evo Max offers game-changing levels of drop protection up to 20ft (the height of a two-storey house) and is made with tough-wearing layers of FlexShock™ – our patented impact material. Other features include a charge port dust cover and a unique sliding camera cover that protects against all the elements. Whether the person you're buying for works outside or loves to explore, this robust case will keep their device safe from damage. Evo Check is our signature case with its sublime and subtle pattern, range of colour choices, newly improved 16ft FlexShock™ multi-drop protection and advanced antimicrobial technology, while Evo Tactile – also made with FlexShock™ - is a more grippy and textured case. You really can't go wrong with any of these cases – they all make the perfect present for anyone who lives a hectic lifestyle as they enhance and enforce their tech with maximum protection in any scenario.
Need to buy a present for someone who likes to keep things understated? Our Evo Clear cases keep the original design of a device front and centre, thanks to a crystal-clear design, while anti-yellowing properties and scratch-resistant properties keep things looking box fresh. If you're looking for big protection without the fuss, an Evo Clear case fits the bill perfectly. Finding a gift for the minimalist home-workers in your life just got a whole lot easier. We all know how important it is to stay fully charged, even if you don't stray too far, and that's where our MagSafe-integrated iPhone 13 cases come in. With magnets built into the materials, these cases work with both MagSafe chargers AND accessories, meaning your loved one will never have to worry about running out of juice again. Need some stocking filler ideas for these notoriously hard-to-buy-for friends and family members? Why not check out our phone accessories including card wallets and phone chargers.
Know someone who's always the life and soul of the party but also constantly in need of repairs to their broken phone due to having so much fun? We have their devices quite literally covered. Whether you buy them an Evo Sparkle phone case to match their radiant personality or an Evo Check case to ensure their tech stays safe from dancefloor disasters, they're sure to appreciate you looking out for their most important and expensive tech. Our Evo Sparkle cases for iPhone 13 now come in a selection of gorgeous glitter-filled colours, while Evo Check is also now available in a striking rubine red and lovely lavender. Another option is one of Tech21's exclusive phone cases with unique patterns created by our very own talented artists. From on-trend shapes and colours to a simply stunning iridescent mandala design that has a soothing effect, there is so much to choose from.
Running late with your Christmas shopping this year? We have so many great ideas that will help your loved ones look after their tech in style. Whether you buy them an AirPods case, iPhone case or Samsung case, they're sure to appreciate your help. We also have a selection of MacBook cases with perfect connection and non-slip feet for steady typing. These are designed to keep these expensive pieces of tech – whether they're using at home or in the office – safe from damage. Money running a bit low in the last-minute rush? Check out our Clearance Sale and enjoy savings of up to 70%.
We all know just how busy parents can be and how many hurdles they face to protect their tech on a daily basis – from dropping phones on school runs to keeping devices safe from messy toddler hands. Our extensive selection has everything they need to offer a helping hand when it comes to protecting the essentials. Our Evo Lite cases for iPhone 13 and Evo Slim phone cases are bright and light, perfect for everyday use as they come in a variety of vibrant colours and have antimicrobial protection built into them, while our iPad cases are fully prepared for even the toughest of toddler tantrums. Complete with an integrated carry handle to make it easy to hold and carry around, our Evo Play2 iPad cases are available in a selection of bright colours while the antimicrobial formula keeps your device safe from sticky little fingers that have been dipped in Christmas treats. Kids can have fun and parents can breathe easy when one of these cases is attached to the device.
FOR THE ENVIRONMENTALLY CONSCIOUS
There's always one that never gets any easier to buy for, but we're happy to report that our eco-friendly phone cases provide the perfect solution. Choose from a range of designs and colours and let them enjoy the fact their new case will leave no microplastics in the environment once it's finished with. Our Eco Slim cases boast strong drop protection and are made with innovative composite materials while our Eco Art cases feature stunning, exclusive and on-trend artwork that captures our bond with nature. We have environmentally friendly phone cases available for both iPhone 13 and iPhone 12.
HOLIDAY GIFTS FOR EVERYONE
No matter who you need to buy for this Christmas, we hope our Gift Guide has helped point you in the right direction and given you some much needed inspiration. With such a huge range of products available, from understated and practical to vibrant and good for the environment (don't forget, all our packaging is 100% recycled and recyclable), you're sure to find something to suit everyone you know. Happy holidays!