ENJOY A SPARKLING JOURNEY THROUGH LONDON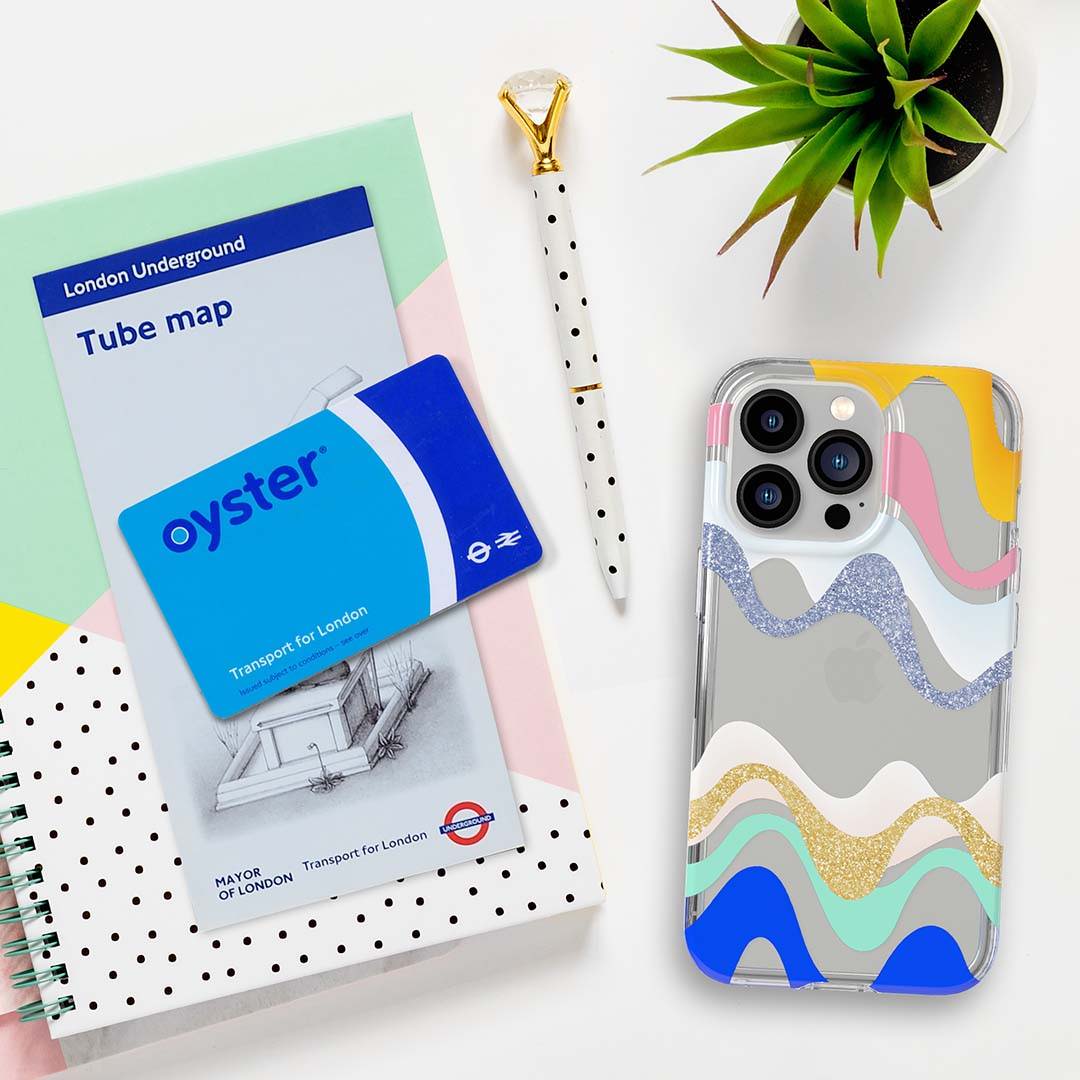 WIGGLE'S SIGHTSEEING ADVENTURE
Available for iPhone 12 and iPhone 13, our exclusive and unique Evo Art Wiggle phone case was chosen by customers in an online poll so it's only fitting that today we're shining a spotlight on this most fabulous of cases.
With wavy, ombre-tinged patterns and sprinkles of glitter, Wiggle embarked on a visit to London to celebrate the launch of Tech21's TikTok channel. Did the Big Smoke live up to Wiggle's swagger and sophistication?
PROTECTION AGAINST HUSTLE & BUSTLE
The first stop for Wiggle was London Waterloo train station – one of Britain's busiest. A place bustling with people and potential hazards, Wiggle had to be at its sharpest and make full use of its enhanced camera protection as it made its way through the masses to be greeted with one of London's most iconic sights – the Black Cab.
The next stop on Wiggle's whistle-stop tour was another must-do – the London Eye. Standing 135m tall on the bank of the River Thames, Wiggle was in awe of this structure but remembered that it also offers 3.6m (a height that people actually DO tend to drop their devices from) multi-drop protection to keep people's devices safe – and on those devices are photographs and memories of special day trips. The buzz of the South Bank then called Wiggle with a quick pitstop for another traditional English favourite – a fish and chips supper!
ART THAT MATCHES UP TO WIGGLE
We all know that a case with as much style as Wiggle would be steeped in culture so it's no surprise the next stop on its visit was a wander around the famous Tate Modern art gallery. Wiggle took in all the portraits, paintings and exhibitions… We wonder if it took some notes back to our creative team for their next stunning projects?
After all this art, it was time for a little retail therapy with Borough Market the location. With so much going on and delicious flavours and scents filling the area, Wiggle was a little concerned about staying clean. We've thought about that with the advanced antimicrobial technology that is built into the case reducing microbes by up to 99.99% in just 24 hours.
The last stop on Wiggle's journey was London Bridge – the capital's oldest railway station with solid floors that Wiggle can protect your device from…
Is that the last train calling? Best get a Wiggle on.